There is nothing like sailing for pleasure on your weekends with your favorite boat. It's important to be a responsible boat owner and process your US vessel registration to comply with the authorities. Proper paperwork makes everything safer and easier for everyone. We all have to put our part here.
To operate any kind of motorized vehicle, you are required to have some type of license or registration. Ships are in no way an exception. And even more so, the numbers and letters in vessels are quite more visible than a regular car plate. Why should you acquire registration and what are its characteristics? Read along to find out more.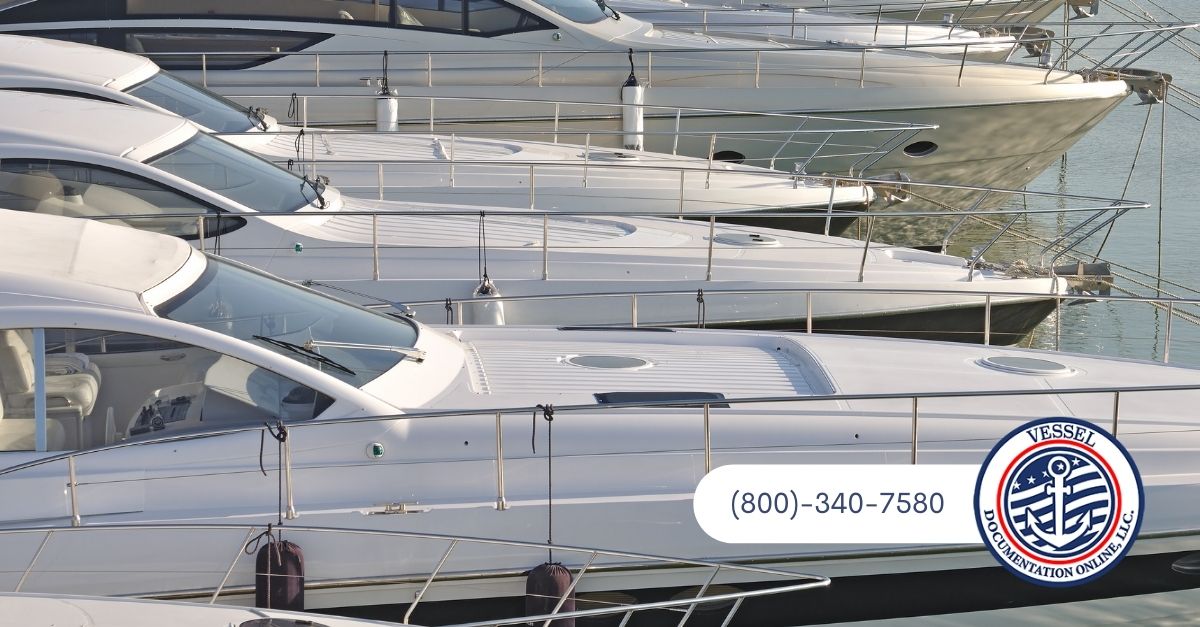 What Is US Vessel Registration?
Registration is the state-level legal document that allows all mechanically powered vessels to travel on federal waters and high seas. It applies to recreational or pleasure boats not intended for commercial use and can be processed in a local Department Of Motorized Vehicles.
Once you have registered your boat, it must display several numbers on it to prove at first sight that the vessel itself is registered. This is important in case maritime officers from the United States Coast Guard require to check the boat and get clearance faster.
Numbers Required For Your Vessel
Two specific numbers must appear on the outer side of your boat: boat number and hull identification number (HIN). Let's go over both to check what they are all about.
Boat Numbers
Boat numbers must be affixed on the forward portion of both the port and starboard side. They should be block letters and at least 3 inches in height. Also, the color has to contrast with the hull's one (e.g.: white numbers over a black hull), and it must have spaces or hyphens between numerals and letters.
Some states require a special sticker 6 inches away from the boat number to operate on freshwaters. Keep in mind that registration in one state may not be valid for another one. You might be able to navigate with another state registration on your boat for a limited time, but you'll have to register your boat again eventually if you have moved from the state you originally registered your vessel with.
Hull Identification Number
This number is the 12 digits a serial number of your vessel. It shows the manufacturer's ID code, production (or serial) number, month and year of production, and model year. This number is used to register the boat, and to identify an individual boat. The HIN (short for Hull Identification Number) is a number is used to register the boat, and to identify an individual boat. It is usually located on the upper right portion of the vessels' transom.
You must be careful not to paint or obscure the number, as you be fined or have your boat registration removed.
Considering Vessel Documentation
Another option to state registration is obtaining USCG documentation. Unlike registration, documentation applies at a federal level and provides quite some advantages, like getting clearance when entering and leaving foreign ports, sailing in international waters, keeping a trail of the vessel's ownership, and applying for a preferred ship mortgage.
If your boat is intended for recreational use only but measures above 5 net tons, it can apply for documentation. While federally documented vessels are not required to display state registration numbers, you may still be required to register the vessel with the state and be required to pay any sales taxes.
All The Forms And Applications At The Same Place
Whether you are looking to get your vessel documented or need any other kind of form to comply with your ship's paperwork, Vessel Documentation Online can help you out. If you are looking to achieve documentation, look for the 'Initial' tab on the left side to get started. Our SSL encrypted portal will protect your privacy all the time.
Feel free to contact us if you have any questions!